Some images from a trip to the Antarctica in November/December 2014.

Click here to se pictures from previous trips to Antarctica!

We started in Ushuaia and did not visit South Georgia this time, in order to avoid several days used for transportation.


A chinstrap penguin freshens up after the morning swim.
En ringpingvin frisker opp fjærdrakten etter morgenbadet.
Ref: 81A4635.


2 chinstrap-pingviner nyter dagens første solstråler.
Livingston Island, 3. desember 2014. Ref: 81A6482.


Noen pingviner er beleiret av en leopardsel.
A leopard seal is patiently waiting for the penguins to leave.
Ref: 81A4201.


Noen ringpinviner sliter litt med å komme seg ut i matfatet.
Access to water and food is sometimes troublesome.
Chinstrap penguins, Astrolabe Island. Ref: 81A4696.


Chinstrap penguin, Useful Island, Antarctica, November 2014.
Ref: 81A3411.


A chinstrap penguin - very charming indeed! Ref: 81A4533.


Bruk av droner til foto- og videoopptak er blitt svært utbredt over hele verden. De har også dukket opp i Antarktis. Noen profesjonelle russere hadde med seg avansert utstyr som ikke så ut til å forstyrre pingvinkoloniene særlig mye. Det vurderes forbud gjeldende fra 2015.
Ref: 81A2199.




En entusiastisk elefantselfotograf bør ikke mislike kaldt vann eller være redd for å utfordre objektivets nærgrense!

To be an enthusiastic elephant seal photographer, you should not dislike cold water conditions and you should have a relaxed behavior as to minimum focus distance.
(Elephant Point, Livingston Island, Antarctica, December 2. 2014).

Ref: 81A6330.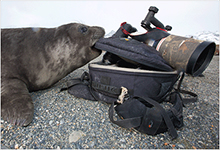 Fotosekken var fillete fra før også. Et av sjarmtrollene på stranden får gjerne ta seg en jafs.
Se flere bilder fra South Georgia!

An Elephantseal youngster is curious and far from being afraid of photographers - or their photo equipment.
St. Andrews Bay 10. november 2008. Ref: F5R1851.
You are welcome to visit my page featuring photos from
South Georgia!