For mange er nærkontakt med løver det grommeste
på en safari i Afrika.
Sabi Sand, Syd Afrika, januar 2008.
1D Mk III. 500/4, f 7,1, 1/1600, ISO 1000. Ref: B8Y2016


En safaribil er tydeligvis et irrelevant element for dyrene på savannen. Man kan sitte helt åpent, men bør selvsagt unngå brå bevegelser. Er man heldig, kan dyr passere på bare et par meters avstand.
Men noen av de største dyrene holder sjåførene større avstand til. En stresset elefant eller et aggressivt nesehorn er ingen spøk - selv for en solid safaribil.
Masai Mara, Kenya, september 2011 .

It's amazing to witness the animal's complete ignorance in the behavior towards vehicles. A giant lion may well pass in a distance of 2 meters; a leopard could suddenly disappear in order to pass by crawling underneath the vehicle.
Ref: KG21740.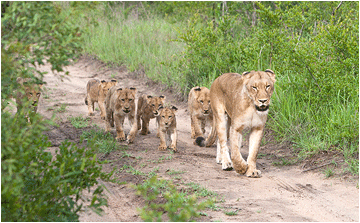 Noe av det mest spennende med safari, er at du ikke aner hva som kan dukke opp rundt neste sving! Fra utkanten av Krügerparken i Sydafrika i desember 2006.

When on a safari trip, you never know what to expect around the next turn. Ref: M9D0228.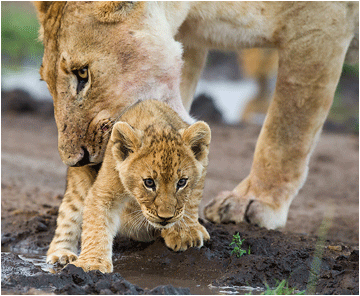 En voksen hunnløve kan knuse halsen til en gnu med ett bitt.
Men bittet kan også justeres til å hjelpe ungen ut av en søledam.

A grown up lion can crush a wildebeest's neck in one bite.
She is using the same teeth to save her cup out of the mud.
Ref: KGA2816.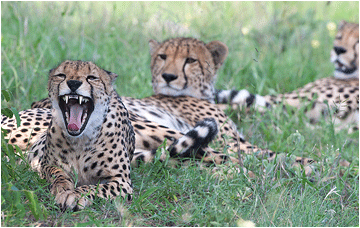 Jaktleopard - gepard - chita. Vakre dyr kan ha mange navn! Sydafrika januar 2008.
1 D Mk III, 500/4, f 8, 1/50, ISO 1000. Ref: B8Y8413.


The great wildebeest migration: One of seven New Wonders of the World. Hundreds of thousands of wildebeests expose themselves to the danger by crossing the Mara river. Lots of crocodiles are ready and in position. The wildebeests are well aware of this, but the pastures on the other side are irresistible.

Crowds are going back and forth on the shore, hesitating. Suddenly the first brave animal takes the risk and throw itself into the murky water. Simultaneously hundreds follow and the drama unveils. Crocodiles turn mean and busy and the nature photographer turns extremely occupied.

Gnukryssing over Mara-elven: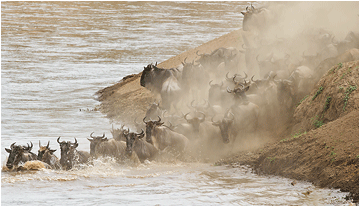 Nikon D3S, 600/4, f11, 1/200, ISO 1000, Ref: KGA0323.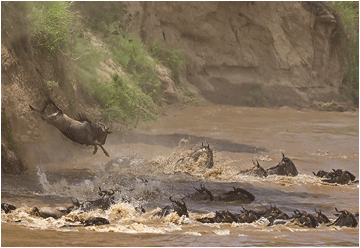 Nikon D3S, 600/4, f7,1, 1/1600, ISO 3200, Ref: KGA0772.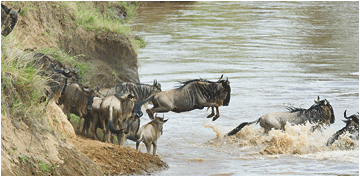 Nikon D3S, 600/4, f9, 1/1000, ISO 1250, Ref: KGA1242.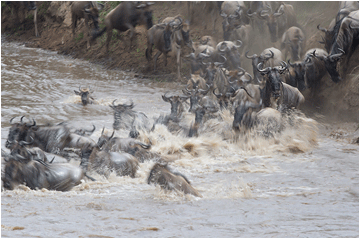 Nikon D3S, 600/4, f22, 1/25, ISO 560 (autoISO),
Ref: KGB0354.

5. september 2011 krysset ca 30.000 gnu Maraelven i Masai Mara, Kenya. Det hadde samlet seg opp noe svære flokker langs elvebredden. Det var tydelig at dyrene grudde seg for å sette utfor - som om de forsto alle farene som lå foran dem: Krokodiller, nedtrampinger, brukne bein og drukning.

Men til slutt løsnet det helt. Da ville alle kaste seg uti og få det overstått så fort som mulig. Dramaet var over på under én time. Det var også en kamp mellom alle safaribilene som kjempet om en plass med litt oversikt.

For en fotograf var det flere utfordringer. Én ting var å gjengi disse scenene på tradisjonelt vis, med raske lukkertider som ville få det meste til å se skarpt ut. Mer krevende var det å kunne fange opp bevegelsene i bildet med å bruke lange lukkertider.

Å være midt oppe i en av verdens mest spektakulære dyreforlytninger var en opplevelse som vil bli husket i alle år etterpå.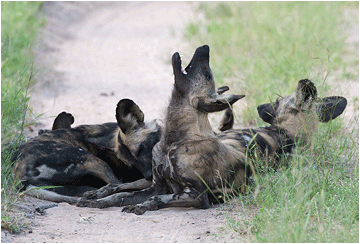 Villhunder er ikke så ofte å se. Fra Timbavati, Sydafrika, januar 2008.
Wild dogs are seldom seen. From Timbavati reserve, january 2008.1 D Mk III, 500/4, f 8, 1/640, ISO 1000. Ref: B8Y8729.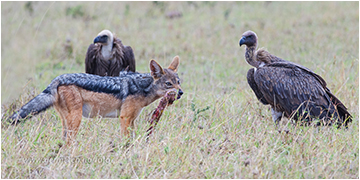 Black-backed jackal. Ref: KG27016.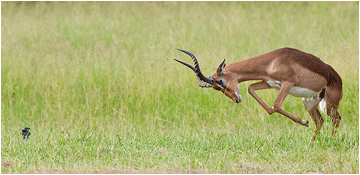 En impala er antagelig som mange andre dyr: Skal du først stange noen, kan det være bra å finne en som er mye mindre enn deg selv!

If you are in fighting spirit, a safe way to start is to take on a creature far less in age and weight compared to yourself.

Sabi Sand, Sydafrika januar 2008. Ref: B8Y1489.

Besøk siden med bilder fra Kenya
i november 2013!

You are welcome to visit my page
featuring pictures from my
trip to Kenya on November 2013!